This post is written in partnership with Mazda. All opinions are my own.
Growing up in Michigan I've been around cars my whole life. My grandpa was a car salesman and both of my parents worked in the automotive industry for their entire careers. Having the Motor City in my backyard and being able to attend events like the North American International Auto Show and the Woodward Dream Cruise every year was and still is so special.
Before landing the job that I have now, I worked at an advertising agency with a few different automotive clients. I used to develop social media content for major car brands and I helped with different advertising initiatives as well. While I held this role, I was able to learn a lot about cars. I used to read owner's manuals to try and find content to pull from for my projects/tasks. So, since that job exposed me to tons of automotive tidbits, it's safe to say that I know a lot about cars, especially automotive maintenance and vehicle features.
I love test driving cars and seeing how each make and model is different. Buying a car is a big decision so it's important to do your research beforehand and make a list of everything you're looking for in a vehicle before you sign the dotted line and get the keys to a new ride.
With my automotive background and knowledge, I thought it would be great to start sharing some car reviews on Millennial on the Move. 96 percent of millennials drive every day, so I thought a lot of my readers could benefit from hearing my thoughts on the latest vehicles.
For this vehicle review, I was able to work with my friends at Mazda to test drive the 2017 Mazda CX-5 Grand Touring AWD. When thinking about how I wanted to celebrate my birthday back in mid-November, I thought that it would be fun to take a road trip and drive up to Northern Michigan to visit my parents for the weekend. Mazda came through and they were able to provide me with a vehicle that fit every need I could possibly have!
When the CX-5 Grand Touring AWD was dropped off at my house I couldn't wait to sit in the driver's seat and check it out. As I walked out of my house and toward the vehicle I quickly noticed the red exterior color and the car's wheels/rims. I love to see the way that car designs evolve from year to year. Mazda doesn't disappoint with the 2017 model of the CX-5 - they actually made 250 improvements to the latest model of the CX-5. It's an attractive car that has an eye-catching exterior as well as a clean and sleek interior.
As you read on I'll walk you through my favorite vehicle features and let you know what I think the vehicle was lacking or could improve upon in the future.
Favorite features:
Heated seats and steering wheel: The fall and winter seasons in Michigan means that rain, snow and cold temps are almost always in the weather forecast. Having a car with heated seats is something that I (and lots of other Michiganders) can't live without. When I was looking at all of the buttons on the vehicle's dashboard, I quickly noticed that the Mazda CX-5 Grand Touring AWD had heated seats and I was even more excited when I discovered that it had a heated steering wheel. There's nothing worse than having to start off a drive by gripping an ice cold steering wheel.
Adaptive cruise control (Mazda Radar Cruise Control): I've never driven a car with adaptive cruise control before, but I can tell you that it's a complete game-changer. If there was one feature on the Mazda that I wish I had in the vehicle that I own now, this would be it. By setting the adaptive cruise control feature in the Mazda CX-5 Grand Touring AWD, the vehicle judges both the speed and distance of the car ahead of you and will automatically control the Mazda's speed. Cruise control will be adjusted and a safe following will be maintained, so this feature is especially handy during long drives and on highways.
Active driving display: I'm a very careful and cautious driver and I hate taking my eyes off the road. Looking down at the speedometer or trying to find signs to figure out what the speed limit is makes my heart skip a beat. You never know what other drivers are thinking or what they're going to do next. The Mazda CX-5 Grand Touring AWD comes equipped with a fantastic heads up display system. Your current speed, the speed limit, upcoming traffic signs (like stop signs) and more are displayed right on your windshield, so you can keep your eyes on what's in front of you while your car is moving. Ever since I was involved in a rear-end collision in my own car this past summer I've been very interested in vehicle safety features. This is a feature that I was pleasantly surprised by and really impressed with.
Plenty of storage and seating: Since my husband and my sister joined me in going up to Northern Michigan, we needed a vehicle with comfortable seating and storage space for our belongings. We ended up folding down one of the rear back seats to fit our bags. Having the flexibility to fold down the seats was so nice. It completely opens the trunk space and allows for tons of extra room. I imagine this would be so useful if you needed to move a big piece of furniture or you had your trunk full of groceries.
Navigation, infotainment and sound system: Something that I noticed right away was that you can't touch/interact with the infotainment screen while the vehicle is in motion. I love features like this because they help keep drivers focused. I was able to put my parents' address in the navigation system and it synced right away and began directing us to the best route. While we drove, we had the opportunity to enjoy SiriusXM Satellite radio. The Bose sound system on this vehicle is amazing. The audio was perfectly clear and could be heard all throughout the vehicle. Aside from using your fingertips to change the radio station or add an address for GPS purposes, you can use a dial knob in the center of the vehicle to make your selections on screen. I loved how the dial knob was accessible and easy to use.
Power lift gate: I'm all about vehicle features that make my life easier. The power lift gate on the Mazda CX-5 is so nice and useful. Having the ability to just press a button on the car's key fob while my hands were full was very helpful. After loading everything I needed into the trunk, I just pressed a button on the lift gate and it closed automatically as I walked away.
All-wheel drive: Although I didn't have to enable all-wheel drive during our trip, it was nice knowing that this feature was available just in case. This vehicle comes equipped with i-ACTIV AWD and predicts when it might be needed by monitoring and analyzing things like the temperature outside to driving patterns.
Click through the gallery below to see interior photos of the Mazda CX-5 Grand Touring AWD.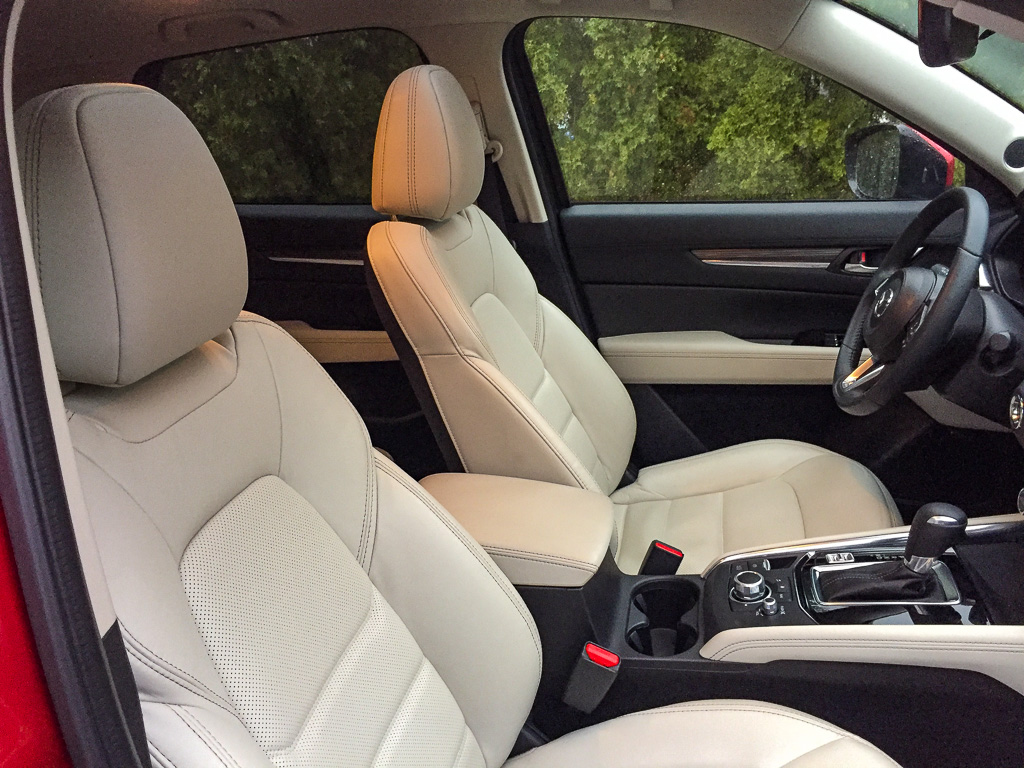 Room for improvement:
Better air/heating circulation in the rear seats: As I mentioned, three of us were in the Mazda when we took our road trip, so that meant that two sat in the front seats and one sat in the back. My sister was the person that sat in the back seat area and she mentioned that her feet were cold and she couldn't feel the heat very well where she was sitting. Other than that, everyone was fairly comfortable with the temperature in the vehicle and it was easy to control and adjust as needed during our ride.
Bigger seat bolsters: If you're not much of a car person, you might be asking yourself: "what's a seat bolster?!" It's the part of the seat along your sides that extends out and keeps you in place as you turn corners. Sometimes when the Mazda would take a sharp turn, it felt like I was sliding out of my seat. Having seats that "hug" you a little more and keep the driver/passengers in place would be a nice improvement.
Now that you know all about my favorite features and a few things that I'd like to see improved in the future, here's a quick overview of the Mazda CX-5 Grand Touring's specifications:
MSRP: $29,395
EPA-EST HWY MPG: 31
Seating: 5 passengers
All in all, I was really impressed by the CX-5 and I'd recommend this vehicle to anyone who is looking for an SUV that provides both safety and comfort. All of the features included with the vehicle make the driving experience stress-free and enjoyable. The car rides smoothly and the cabin is quiet. I could see this being a great vehicle for families. There's plenty of room and space in the trunk and the back seats have their own USB ports! Even my husband was raving about the vehicle and asked if I'd ever consider purchasing one in the future. I can't wait until the next time I have the opportunity to test drive a Mazda!
Have you ever driven a Mazda before? What are features you look for in a car? Share with me in the comment section below!